Here's another older tutorial I've put together ~ Hope it helps!
Let's Rivet Earrings ~ 
Here are my 6 components to decide how to put together ~  I've chosen to start with these ~
Here are a few ideas!
Now that I've decided how I want to put them together….
Once you have the look you like ~
 put the two pieces back together & hold it where you want it to connect
The butterflies come with a pre drilled hole so you can really just make a centered hole on the component where you want to connect it.
If you're trying to connect bracelet links and need  to be precise, pick up your hole punch pliers and put the punch exactly where you want the hole (you will be holding both pieces together)  Then squeeze slightly (don't punch a hole just yet)…just squeeze enough to put an indent in the top and bottom piece~ This will be your mark to a correctly placed rivet.
Remove the pliers (without creating the hole) and then put the hole in each piece separately ~ They will be perfectly aligned and it will save on wear and tear of you hole punch pliers ~
Go ahead and repeat for the other piece of the set ~
If you have any burrs from the hole punch, you can file them off now using files, Dremel or flex shaft ~
Find a hard surface to work on…Now you can put your rivet in through both pieces to be cold connected ~
you can rivet it with the nail head on top or on the bottom ~ I do it both ways…just depends how curvy my pieces are…sometimes it's easier the reverse way~
Cut your rivet with flush cutters to 1/16″ or 1.5mm above the joined pieces…
(For this to work ~the rivet must be flat on top..not pointed)
The rivet should fit snug ~ if you use a larger hole punch, your rivet will bend and not set properly & I promise you will be frustrated
If you use a smaller hole punch, you will be filing the hole and wasting precious time ~
 Seriously, spend the $16 on my hole punch….you will be happy you did! I promise you will use these all the time for other jewelry designing projects! (You can also use them as a hole punch in your earring cards!)
Now that you have your rivet trimmed flush and snug, grab your hammer…usually I use the riveting hammer ~ flat end…but I have great success with my chasing hammer and embossing hammer – round end too ~ test a few on scrap and see what gets you good results.
With very light taps, rotate your pieces in a circular motion as you tap ~ this gives even pressure on all sides of the rivet..which will result in a nice round even rivet head.  As you get better at it, you can just hit around the rivet…but this worked for me when I was getting started…
If you don't have these, you can try a regular hammer…but they are so heavy you need to tap very lightly ~
If your rivet bends before it is nicely set ~ there are a few reasons ~
Rivet was left too long,–look at your ruler and figure out how long 1/16″ or 1.5mm is
Hammered to hard…next time take baby taps…you will need around 12 light taps to set it
Used a larger hole punch…buy my hole punch!  🙂
Now that you're rivet is set, feel both sides…are they smooth and not jaggy…
WOO HOO! You did it~ You've riveted…. Now go back and rivet the other pieces ~
At this time you can shine them up or oxidize them…Just dip them in your favorite oxidizing solution
(sorry details for this are for another tutorial)
 ~ til as dark as you like and rinse well in water ~
Take a piece of 00 steel wool and create shiny highlights on the surface by rubbing in a circular motion ~ front and back
You can add renaissance wax to help slow the oxidizng, but my copper/brass cleaning pads really work great and bring back a shine very quickly…very much like silver!
Once done, add holes on the top of your pieces to connect your ear wires ~ (using your very useful 1.5mm hole punch pliers!)
I love my new solid copper ear wires …they come oxidized but shiny too ~ so no prep…the one thing I notice is that the loop right below the 3 bead cluster is sometimes too small ~ If you grab the cluster to bend, you could easily snap it off ~ using your round nose pliers, bend the wire just below the cluster to open that space up a bit…then slide the wider part of  the round nose pliers in that space and curve it a bit wider~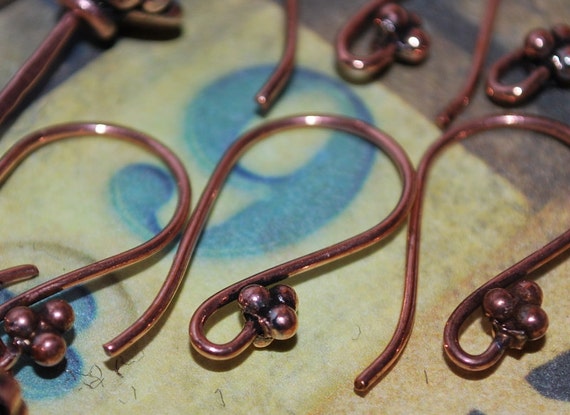 Now add the charm to your earring ~ place the front of the piece through the ear wire and slide around to dangle freely ~ close the hole with out pressing on the cluster. You can add color by just adding  beads, or other fun charms….Here I added Denim Lapis bead charms  ~ I love this combo! I could easily have placed another hole at the bottom of the butterfly and dropped the bead from here ~
Very likely to sell or make someone very happy to receive!  Think I'll go put these in 😉 Btw..holes in earring cards were made with my hole punch pliers..lol!
Go ahead and repeat  this process for the other pieces of the set ~ you can use them as is…bend them, cut them texture them…add chain (using your very handy 1.5mm hole punch~ lol) add wire wrapped beads…make it your own style!  You will have great success with this ~ It will open a whole new world of connection possibilities ~
The rivet options are
1/4″ or 1/2″ Rivets in Copper/Brass or Sterling Silver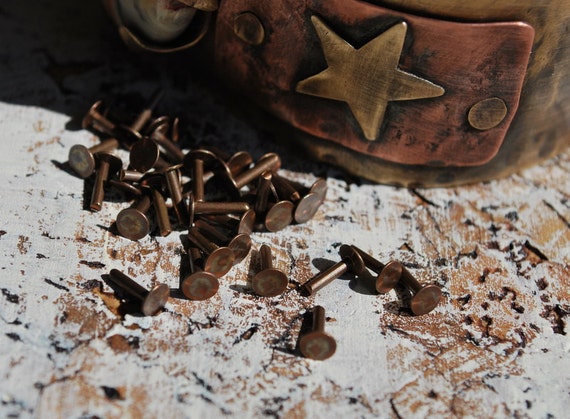 All of these items and tools are available 
on my Etsy site!
My Components Here
Metal Blanks Here
Assorted Metalworking tools Here  
DIY Kits Here
 If you order any of my riveting tutorials, 
I will email you this riveting tutorial free with extra tips that work for me! 
Have fun and be creative ~ 
Try this design or create your own combination! 
Now get riveting 🙂  It's easy!